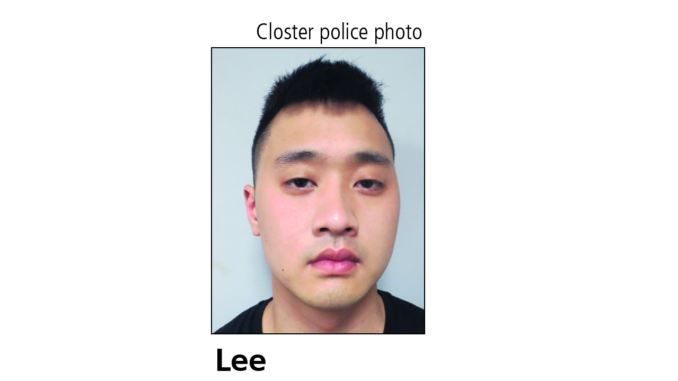 CLOSTER, N.J.—Borough police say a Demarest man was highly intoxicated June 28 when he hit a server at Bareburger in Closter Plaza over the head with an electronic tablet-menu, then punched him with a closed fist in the back of the head.
Police said the alleged assailant, Andrew H. Lee, 28, of Demarest, was recorded on video during the initial unprovoked attack. Lee then followed the victim behind the bar and hit him again in the head with the tablet, Closter Police Detective Keith Dombkowski described in an investigation report reviewed by Northern Valley Press.
"The victim is hit with such force he is observed jolting backwards," Dombkowski wrote of the surveillance footage. 

Four Closter police officers responded to the incident at 3:21 p.m., Patrolman Brian Kelly wrote in his investigation report. Restaurant staff told responding officers that Lee—who had been with a friend going to grab something to eat—was visibly upset by the presence of a staff member. 
"While [the employee] was explaining how to use the menu to Lee, Lee struck [the server] in the forehead area with the menu tablet," staff members told police, Kelly wrote. 
The friend attempted to restrain Lee, Dombkowski wrote. 
Describing surveillance footage: "The suspect, appearing to be highly intoxicated, slowly stands up, grabs the tablet and stumbles toward the front of the restaurant," Dombkowski wrote. "He walks in the back of the bar where the victim is located…[and] proceeds to strike the victim again in the head with the tablet."
The unidentified friend stopped the attack and removed the suspect from the establishment, Dombkowski wrote.
The friend told police he drove Lee to the downtown area of Cresskill and dropped him off near the Kings supermarket, before he drove back to Closter Plaza—where police were already on the scene, Kelly wrote. 
Cresskill police, alerted to the situation, found a male party in their jurisdiction matching the suspect's description, Dombkowski wrote. He transported the victim to where the suspect was detained and conducted a "show-up"; the victim positively identified the suspect as the individual wanted in the attack, said Dombkowski. 
"It appeared Mr. Lee was highly intoxicated," Dombkowski wrote. "He had difficulty standing and slurred speech. A strong odor of an alcoholic beverage could be detected emanating from his person." 
Lee was arrested and taken to Closter police headquarters, where he was charged with aggravated assault and disorderly conduct, Dombkowski wrote. He was given a July 17 court date at Central Judicial Processing in Hackensack, he wrote.
Due to his high level of intoxication, Lee was transported to a medical center, and turned over to its custody, said Dombkowski.